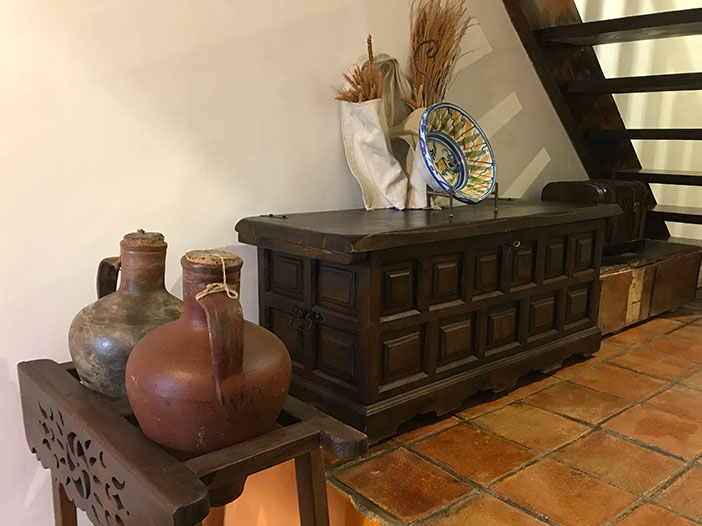 Maps of Mesones and El Casar
Buses timetable
Transfer to and from the airport or Madrid
The Adolfo Suárez – Madrid Barajas airport is located about 46 km from Mesones. To go to Mesones from there, it is best to take a taxi, which can cost around € 70 (luggage cost separately). We have an agreement with a taxi driver who charges a flat fee of € 60, with a vehicle for 6 passengers. If you are interested in his services, please, let us know when booking.
You can also rent a car at the airport, which is highly recommended if you want to go on excursions.
Supermarkets
In Mesones there is no supermarket, although there is a small shop in the Town Hall building for urgent things and in the Aries Restaurant you can buy ice and drinks.
In El Casar (see map):
ALDI (7.6 km distance)
BM Supermarkets (8.3 km)
Dia (8.7 km)
Mercadona (9.1 km)
Carrefour Express (11 km)
Take away food
In Mesones:
Aries Restaurant can prepare take out food:
Calle Nuestra Señora de las Nieves, 4
Mesones
Tel. +34 949 854 985‬
In El Casar:
Home delivery (with service at Mesones):
Pick up:
Health center
The El Casar Health Center is located at the entrance of the town coming from Fuente El Saz (see map):
C/ de Llano Monte s/n (corner with the Fuente el Saz road)
Tel: +34 949 334 273
Emergencies: +34 949 335 776
Nearest hospitals
In San Sebastián de los Reyes (Madrid): 36 km distance
Hospital Universitario Infanta Sofía
Paseo de Europa, 34
28703 San Sebastián de los Reyes (Madrid)
Tel. +34 911 91 40 00
In Guadalajara: 46,5 km distance
Hospital Universitario de Guadalajara
C/ Donante de Sangre s/n
19002 Guadalajara
Tel. +34 949 20 92 00
Osteopath
Luis Iturriaga
Urbanización El Coto
Avenida de Bruselas 735
El Casar
Tel: +34 658 939 994
Specialized in sports and back injuries. He also attends home.
Check rates.
Hairdresser at home
Gema, +34 679 114 975
If you are going to a wedding or a party or just need a quick fix. Home service.